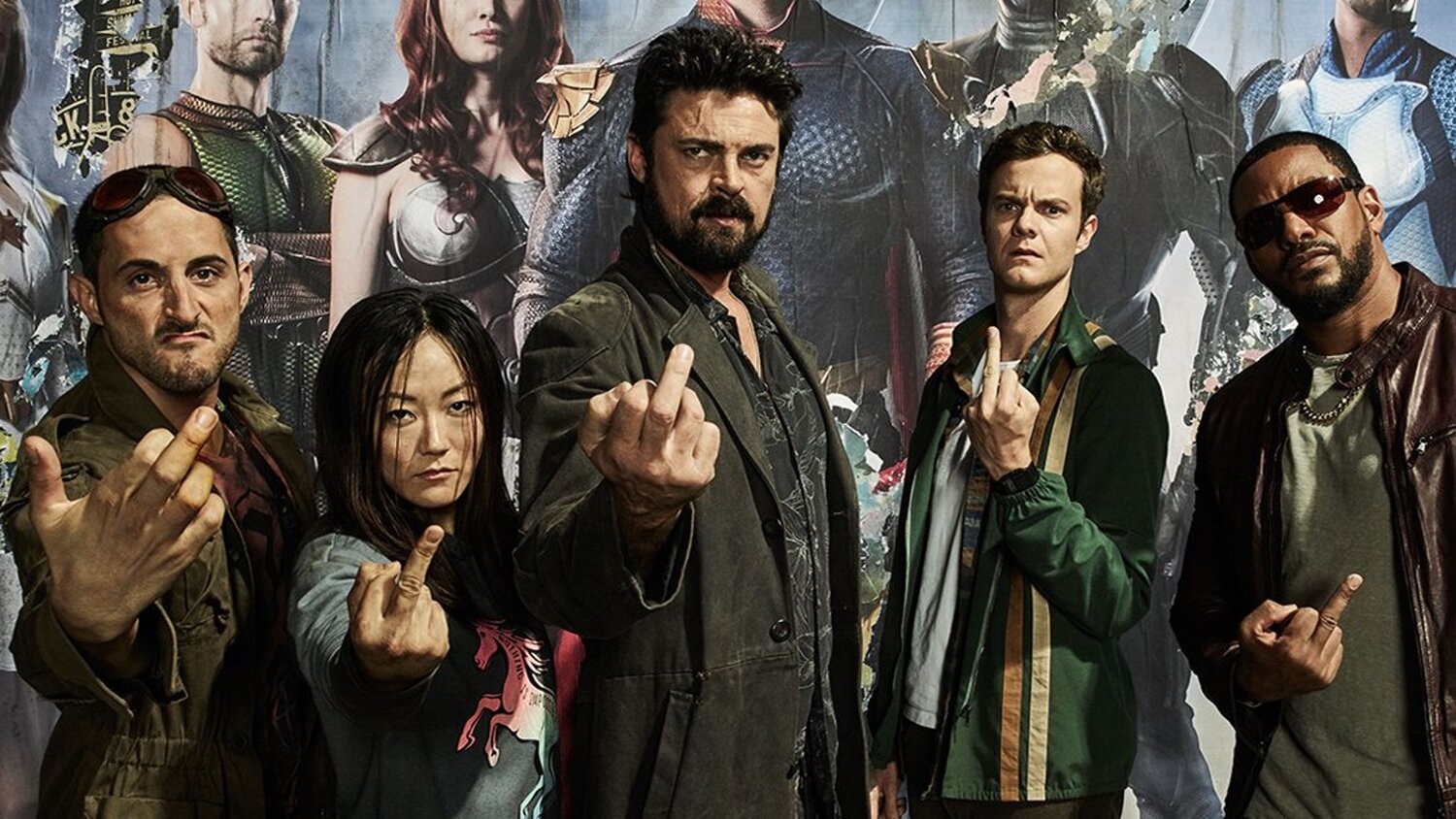 Amazon Studios, The Boys

Fuck Supes: Season 2 Campaign
Season 1 of The Boys was a fucking thrill ride that created an army of hardcore fans who couldn't get enough of our heroes showing those corporate capes where they can stick it. So when Season 2 came calling, we were ready to mobilize that army with concepts that would get them frothing at the mouth: dedicated social shoots, massive Coachella and Comic-Con activations, and a commitment to original content for social…
…BUT THEN FUCKING 2020 HAPPENED.
Our audience, much like the rest of the world, was stuck at home on the couch, doomscrolling 'til their thumbs fell off. So we joined them.
Instead of an activation-based strategy, we flipped the script and dove head-first into the conversation with a social, community management led campaign. But not just any ol' CM campaign. These fans needed something more, and we knew just where to look.
ENTER BILLY FUCKIN' BUTCHER

Borrowing cues from the leader of The Boys, we developed the brand voice into a savvy and brazen social media manager who led the conversation with Billy's favorite war cry: FUCK SUPES. Our fans ate it up.
OKAY LADS HERE'S THE PLAN:
MAKE 'EM LOVE US
We got fans all tuned up by giving them more of the shit they loved - compilation videos, memes, reactive content. They got a look behind the cape with behind-the-scenes archives. Hell, we even gave 'em a gag reel just for the shits and giggles of it. The plan was in motion.
NOW THAT EVERYONE KNEW DADDY'S HOME, IT WAS TIME TO GET THEM OBSESSED WITH THE BOYS.
FIRST, WE
EAVESDROPPED
As Season 2 rolled out our analysts dug into social conversations to gain insight into exactly what type of foul mouthed fuckery our fans loved and needed the most. Got milk? You bet your arse we did.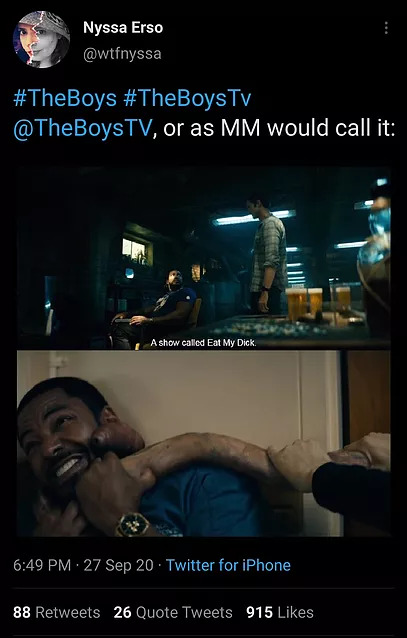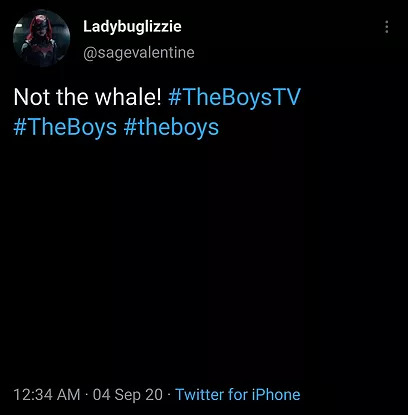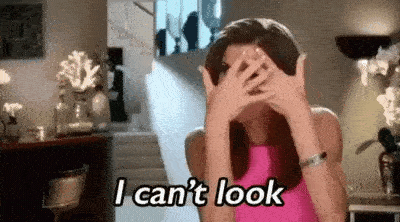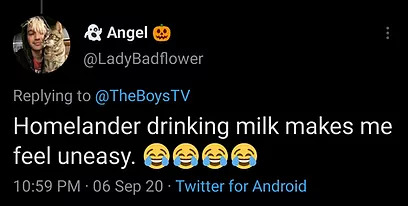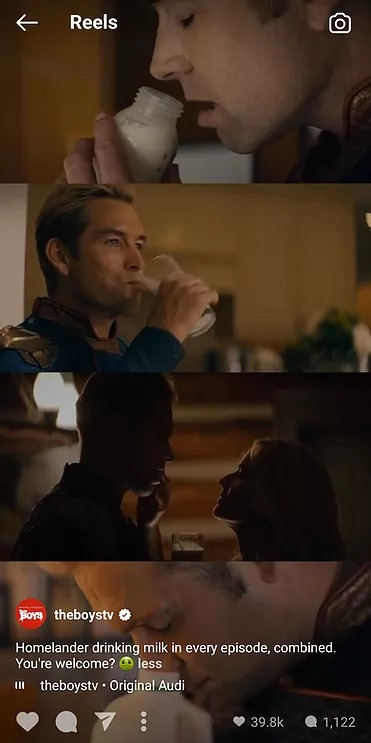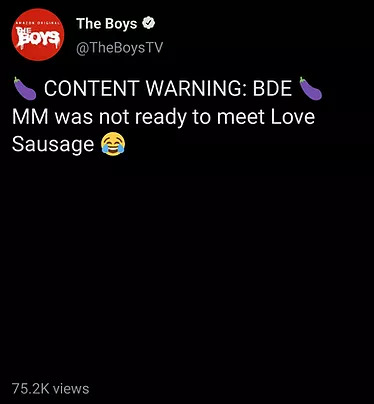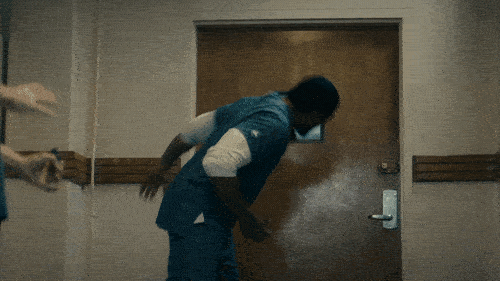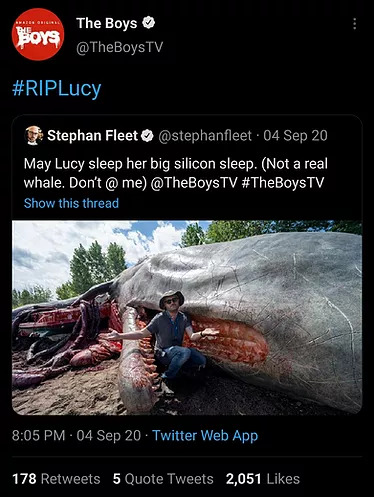 THEN WE GAVE THE BASTARDS EVEN MORE OF WHAT THEY LOVED
We went even HARDER to create weekly content based on the stuff fans wouldn't shut up about. We kept fan engagement at an 11 so everyone felt like they were part of The Boys. And then we did it all again the next week.
We're an international team so we gave plenty of love to our mates around the globe. Turns out "fuck supes" is a universal feeling.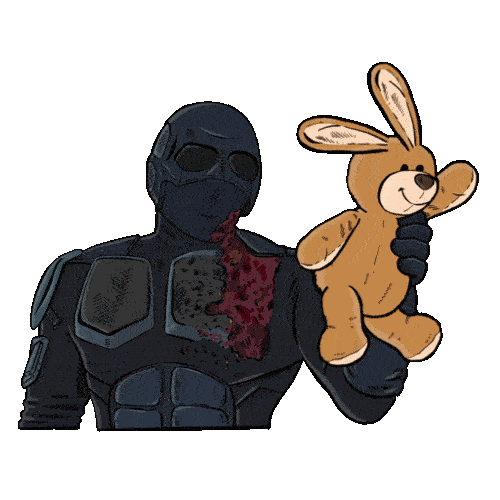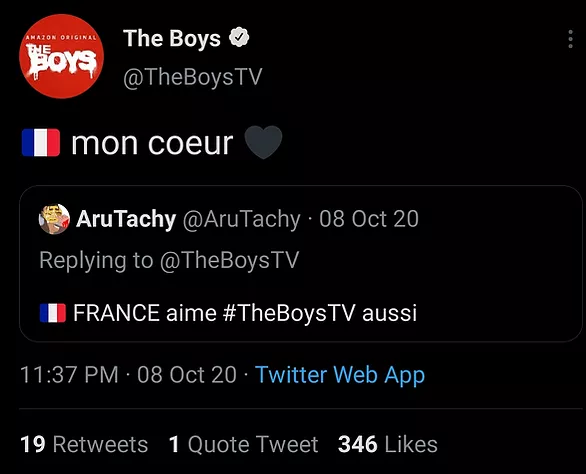 AND THEN WE RUBBED
THEIR NOSES IN IT
Fans ate up our content, but they also loved that we talked shit. So we went HARDEST on community management, clapping back at anyone who came at us: fans, other shows, even the talent.
Some assholes decided it'd be funny to spam The Boys with 1-star reviews because they didn't like waiting a week for more episodes.
So we worked with our bosses to tell 'em where to stick them stars.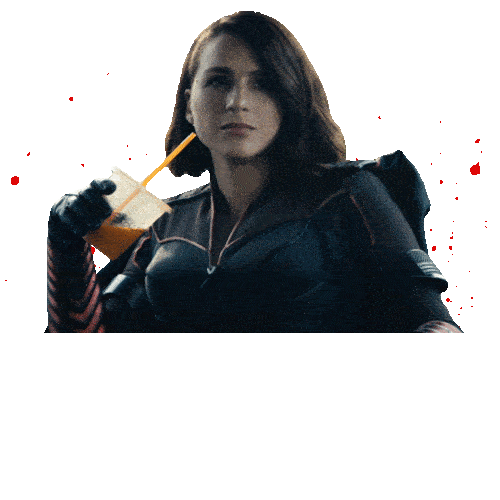 MOST IMPORTANTLY, WE
STAYED CURRENT
Unlike other wankers, we stayed on top of pop culture like the goddamn fucking Spice Girls and hit it head on without pulling punches.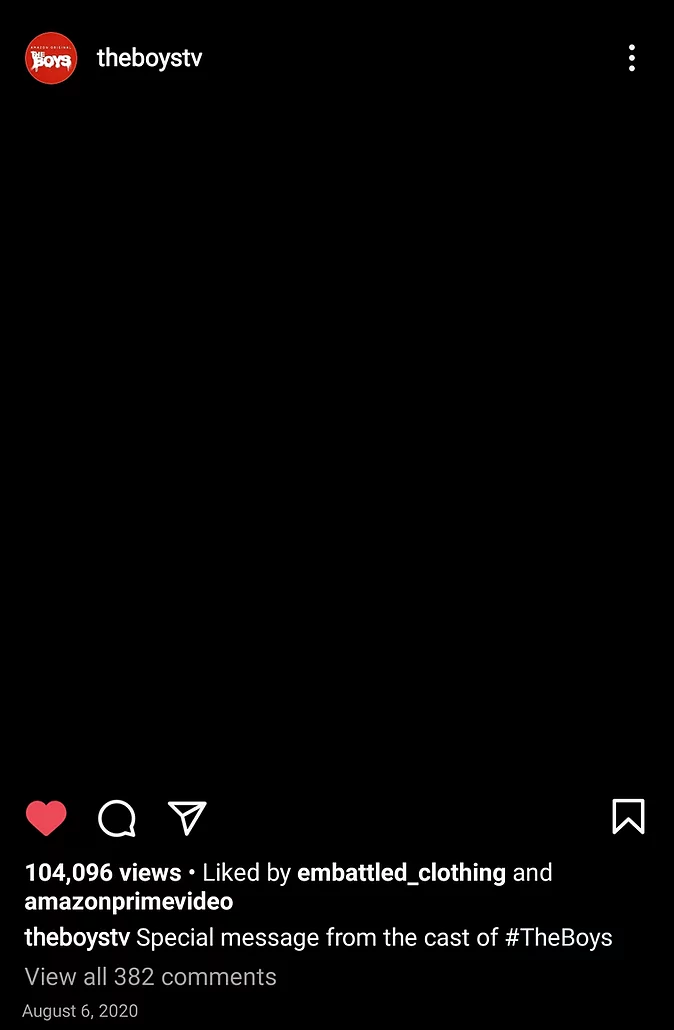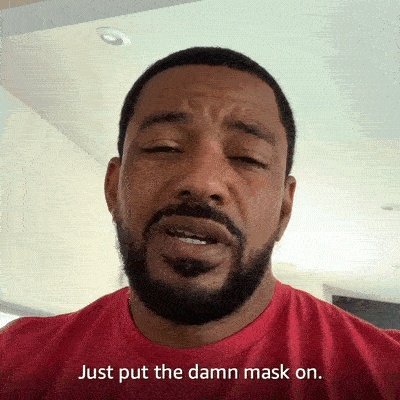 An extreme year called for extreme measures. Which is why we even convinced The Boys to work with the Supes to tell everyone:
WEAR A FUCKING MASK.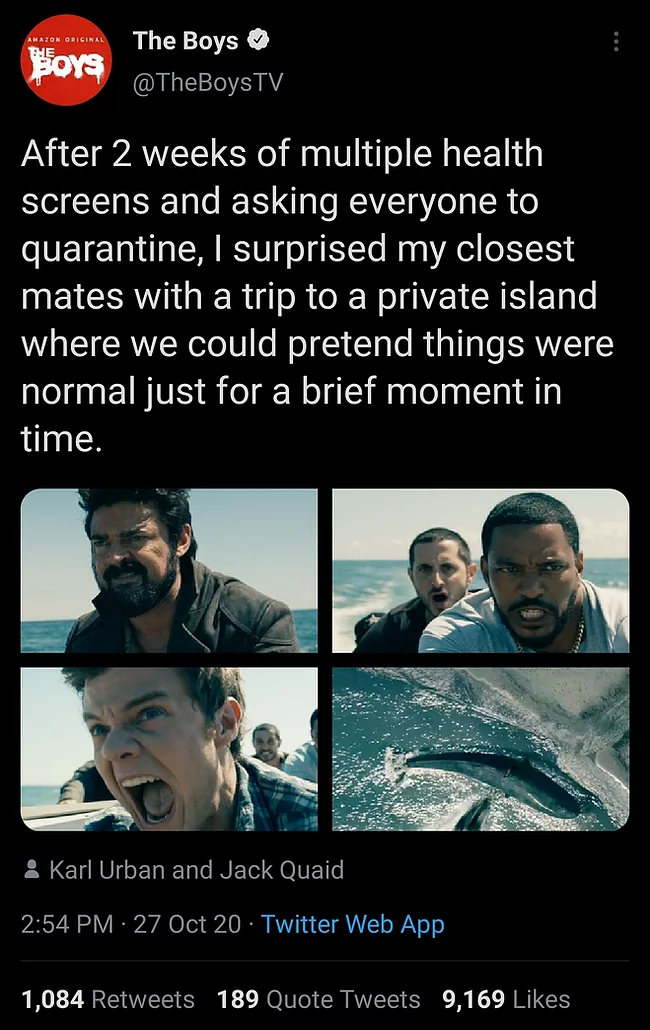 Of course we stuck it to the rich. Get outta here with your entitled bullshit, Kim K.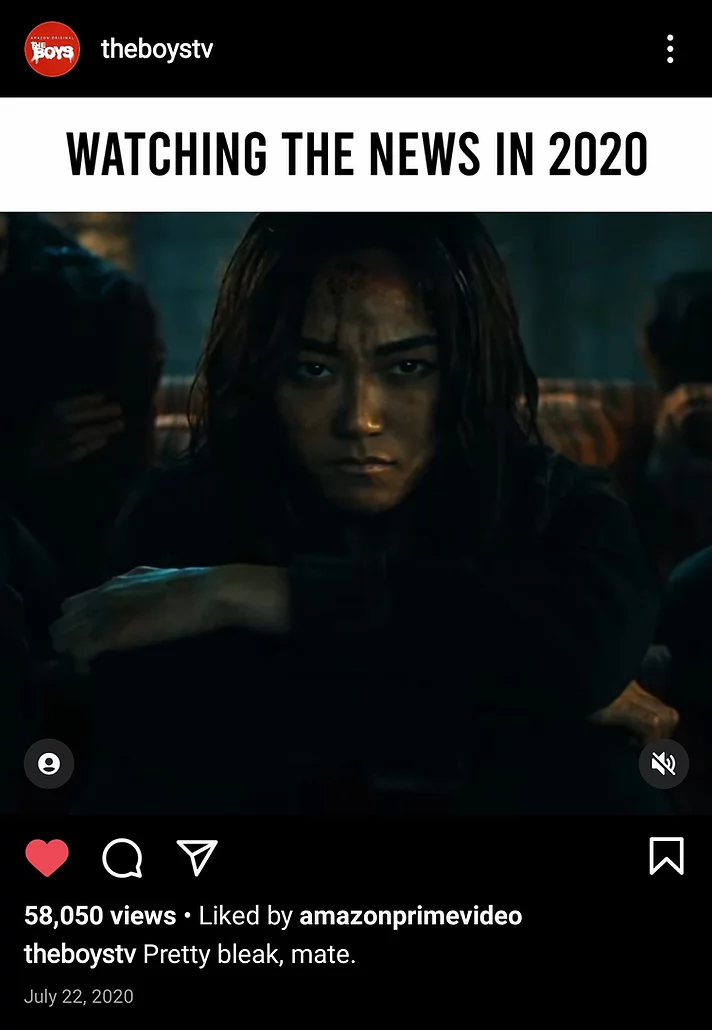 We all got together and agreed: 2020 sucked balls.
THE CAMPAIGN WAS ALREADY A MASSIVE HIT. AND THEN ALONG CAME BARACK OBAMA
in the end, It All went according to plan
Our tidal wave of content made a massive impact on
engagement rates and responses on every platform: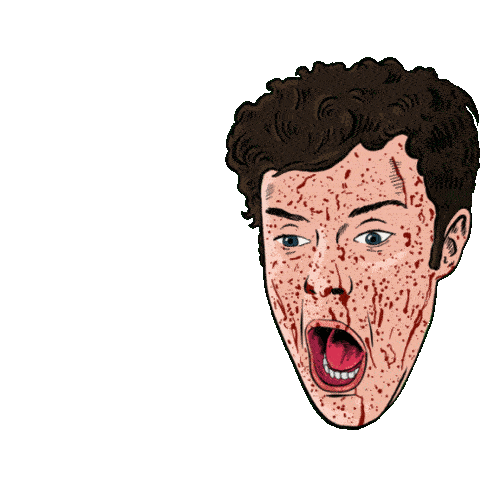 38.6M

total
reach

315% INCREASE FROM

PREVIOUS TIME PERIOD

428K

tnew
followers

369% INCREASE FROM

PREVIOUS TIME PERIOD

3.9M

CONTENT
RESPONSES

157% INCREASE FROM

PREVIOUS TIME PERIOD
Oh, by the way...
The Season 2 premiere of The Boys was the biggest
launch ever for Amazon Prime Video, pulling in
bigger viewership other streamer's biggest shows.

'The Boys' Season 2 Premiere Topped 'Stranger Things' and 'The Mandalorian'
Not to mention, The Boys is now a fucking franchise
with spin-offs on the way.

The Boys Spin-off About College for Young Supes in the Works at Amazon
Not bad for some work-from-home wankers, eh?