As seasoned Mario Kart, ToonTown, Pokemon, Neopets and Zelda alumni, many of us on the Movement team are no strangers to gaming. But today's games have almost become social networks: sought-after destinations for interacting with both real life and digital friends. At the same time, gamifying an experience has become increasingly popular as Web3 visitors have wandered the metaverses, looking to maximize their digital experiences. 
Enter crypto gaming. Often caught between the intersection of web3 and the metaverse, crypto gaming has continued to evolve into its own distinct universe. And after some initial exploration, a lot of discord surfing and healthy doses of gameplay, we unearthed a single common denominator that seems to explain how these platforms continue to thrive no matter the landscape: the community behind the game. 
Not surprisingly, a committed, self-sustaining community of content creators, moderators and question answer-ers have proven to be the backbone that propels certain games forward. This is pretty standard across many niche and massively popular interests alike. But considering how much of crypto gaming is in its infancy, legacy players and enthusiasts bear a world of responsibility. 
Those familiar with the high barrier of entry just to start gameplay know the struggle. Rules and guides aren't super clear for games still in alpha. The constant changes to crypto transfers and wallets and the technical know-how to build a metaverse in Decentraland are not for the faint of heart. But it's often other players and enthusiasts that continue to try and bring newcomers into the action. We've written about our interest in Decentraland in the past but today, we're highlighting the enthusiasts behind some of the other emerging leaders of web3 cryptogaming:
FORTNITE
First, we must start with Fortnite. Fortnite has continued to come up in metaverse conversations due to its ability to attract millions of users at once, many of whom contribute to the game's currency. And by definition of those who have written extensively about the metaverse, such as venture capitalist and former Amazon Exec, Matthew Ball, these traits are the basic hallmarks of what a metaverse is. Others have even said the metaverse is already here, and it's called Fortnite.
Fortnite's CEO, Tim Sweeney, says that Fortnite is still a game

 

for now

. 
But when millions of people tune in to watch an Ariana Grande concert or a Travis Scott performance without needing to be in the same physical realm as the avatar next to them, some like Jacob Navok, CEO of Genvid Technologies and cloud computing expert, says this is the closest definition we have so far of the metaverse. 


Image: Epic Games
Part of Fortnite's popularity is the ability for any player to get started and jump in. Not only is it free to play, but the learning curve for casual players is relatively short due to how quickly the game restarts to the next round. While learned skills and strategies certainly help seasoned players, new players also don't immediately stick out as easy targets. 
Fortnite is no stranger to collaborations, and has extensively partnered with content creators and pop culture phenoms from almost every industry throughout the years. But it's worth noting that these collaborations spawn both in-game and beyond. Live events that every player experiences remind others of just how many people are actually playing the game and watching the event unfold with them. And actual physical live events such as Fortnite's Summer Block Party featured celebrities and content creators competing in a new game specific for the event. There was also that one time a photographer found the Fortnite burger out in the desert. 
As of writing this, Fortnite has not returned to iOS, leaving many of us without access to our beloved Fortnite. If you need us, we'll be here…waiting…
ROBLOX
Not only is Roblox the most popular game in the world, like Fortnite, it's also one of the easiest to get started in for those dipping their toes into the metaverse gaming gamet. If you haven't gotten a chance to play yet (which  included us, prior to this article being written – not totally surprising given Roblox's demographics), Roblox is a platform that allows users to create and play other users' games and experiences. The games are totally immersive, which allows single players and friends to pop in and out of different worlds at any time. The games are predominantly user generated content and those game developers are getting paid for their creations. 


Image: Roblox
Roblox's booming 'creator economy' also allows game developers to sell avatar items, offer in-experience purchases or sell studio assets and plugins in exchange for "robux", the in-game currency that can be converted into real life currency. The game currently has  more than 1.7 million developers and has paid over $18 million in revenue sharing.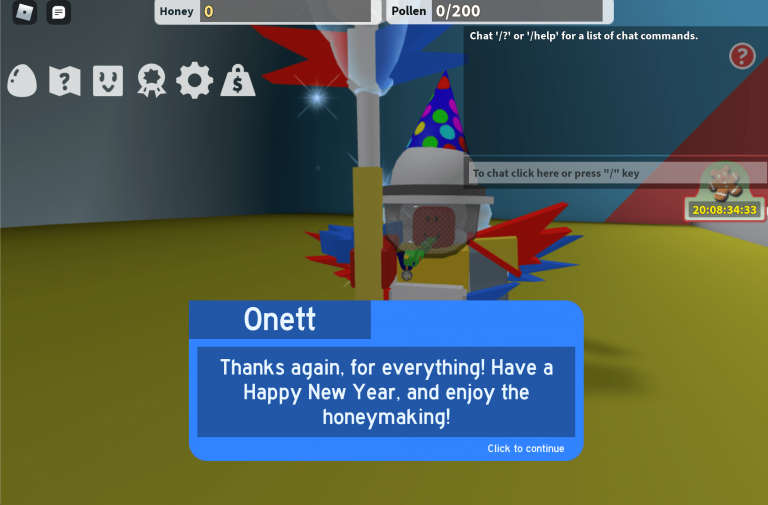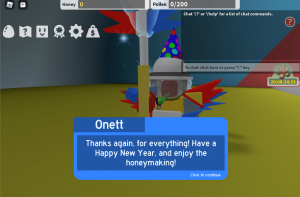 One of the first games we tried in the Roblox universe was a game called 'Bee Keeper', in which you play the role of the beekeeper, collecting pollen and turning it into honey. The game opens with a sweet note from the developer Onett, who wished us a Happy New Year and gave thanks for playing the game. It felt extremely genuine and personal and reminded us that these games have been built from the Roblox community, not an anonymous gaming establishment. Thank you Onett.
CRYPTOKITTIES
In the beginning, there were CryptoKitties. Users could purchase a digital kitty fitted with its own unique set of cattributes (cat attributes). Some cattributes are rarer than others, which drive up their value. Users can also breed kitties, with the potential to generate a new CryptoKitty with rarer traits. 


Image: CryptoKitties
Similarly to the tender, loving care one provided their Neopet, Webkinz or Tamagatchi, the CryptoKitties craze was sparked by users trying to cultivate the perfect CryptoKitty. At one point, CryptoKitties were so popular, they accounted for "25% of Ethereum traffic" back in 2018. 
Perhaps due to a lack of real gameplay (aka things to do) or with newcomers like Axie Infinity (more on that later), interest in CryptoKitties has slowed as of 2022. However, the platform is continuing to create new games and new kitties to give additional content to older and newer players alike.
AXIE INFINITY
Similarly to CryptoKitties, Axie Infinity has Axies. Axies are pets with their own unique characteristics and users can breed Axies to create newer, shinier Axies. However, Axie Infinity has a unique play to earn model. Players battle with one another and win in-game currency from each battle, which can then be transferred into real life currency. The more one plays, the more one earns. 


Image: Axie Infinity
Earnings from these games have been especially beneficial for communities hit hard by the Covid-19 pandemic. In 2020, Coindesk published an article sharing how for some players in Cabanatuan City, Axie has been their only source of income during the pandemic. These users play around the clock and have recruited their neighbors and entire extended families in order to make ends meet. Interest in the game continued to boom with the 'Play-To-Earn' documentary by Emfarsis, and the Philippines has been the largest growing player population for Axie Infinity worldwide. 
Axie Infinity has one of the larger barriers to entry, from the extensive game set up to the upfront cost. It's estimated that it costs $1,500 to buy into the game and you have to set up a Ronin Wallet (their Ethereum sidechain) to play.
Interestingly enough, it's other Axie players that have stepped up and found new solutions to these barriers. Some have created "scholarships" where users can borrow other players' Axies in exchange for a percentage of earnings. Others have organized mentorships and trainings for younger players who want to play but don't have the means to get started. 
The Axie team is also working on developing a starter system or demo where users will be able to download Axie for free, utilize a starter team of Axies and determine if they actually want to play before having to commit to purchasing. 
For many, Axie is not just a game but a full time job, an educational tool and a community network. As Jeffrey 'Jiho' Zirlin, Head of Growth at Axie Infinity says, play-to-earn games could be the beginning of a "fundamental change in the nature of work."
THE SANDBOX
One of the buzziest cryptogames of the moment is the Sandbox. The Sandbox had a previous life as a mobile game back in 2012, but its blockchain version is still very new for many (with the alpha first launched in November 2021- more on that later). 
As we poked around, we were reminded of our digital fourth office in Decentraland. In similar metaverse fashion, users can buy land, build their own homes and create their own experiences within the Sandbox platform. The Sandbox also allows players to create their own games, using the Game Maker. Developers can monetize their games for in-game currency, $SAND or make and sell assets to other players (similar to Roblox).
The game is also still in alpha, meaning Nov 2021 was the first time players were actually able to play the game (and at the time of writing this in March 2022, S2 has started!) 


We quickly customized our character and hit the town
We knew that we had to check out Season 2 for ourselves as the Sandbox was finally available for Mac iOS.
Immediately, we were greeted by block characters dancing, running or hopping around us. From a visual perspective, the Sandbox is incredibly colorful and felt like an entirely new world to explore. Like Decentraland, players can maneuver through different areas of a map, interact with NFTs and chat with other players.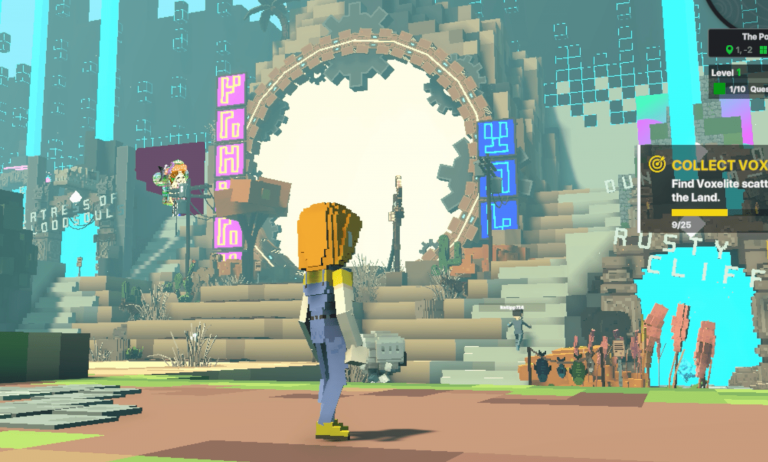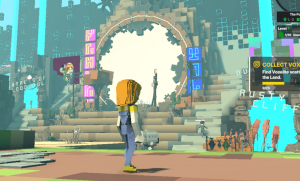 Unlike Decentraland, the Sandbox has several games or quests for players to participate in immediately as they are teleported into the main plaza. Blue crystals called Voxelite are scattered around the map for players to find and collect. Other activities are activated by speaking with NPC with exclamation marks on their heads, which make them easy to identify and move towards on the map. This helps give the game an inherent purpose and encourages learning through exploring the actual game content. 


Underestimating this quest was a mistake
Users primarily walk through teleportation portals to get you to different regions of the map. Not all spaces are available to travel through at the moment, which makes it a bit difficult to determine if portals are the only way to get from one area to another or if users will be able to select a plot of land to teleport to directly.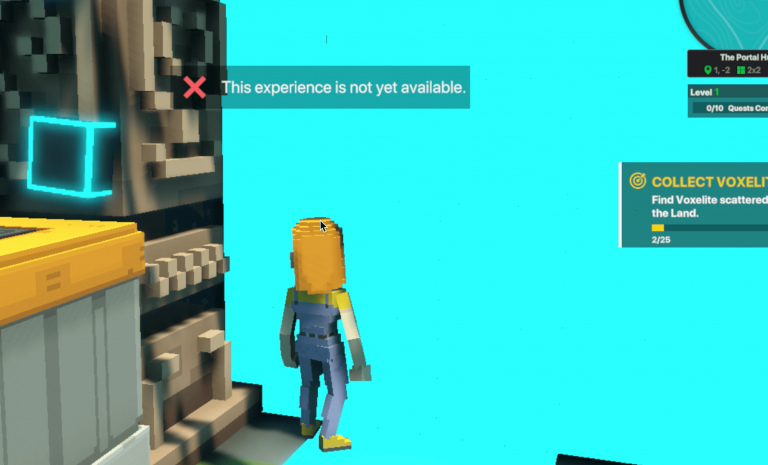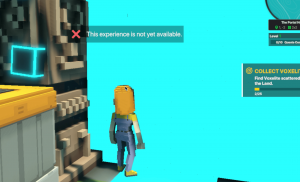 The combination of open world exploration coupled with the growing appeal of design-it-yourself domains and the potential of play-to-earn makes the Sandbox a compelling new entrant. Brands are joining the fray and scooping up land.
In the past several weeks, Gucci has just acquired land in the Sandbox Metaverse, Warner Music has announced it will create a music-themed metaverse in Sandbox and the Ubisoft Rabbids has joined.
READY TO START PLAYING?
It's important to call out that current game industry giants have received their fair share of backlash this past year after revealing their web3 plans. Some gamers have expressed they do not want NFTs and how required microtransactions or explicit advertising interrupting gameplay have resulted in negative user experiences. Gamers have been burned in the past by frustrating paywalls and are quick to call out cash grabs when they see one, such as the poor feedback on Ubisoft's NFT announcement. As a result, creating an authentic experience is more important than ever. 
But that doesn't mean all newcomers into the gaming space are inherently harmful. For individuals or brands just getting started, consider poking around and seeing what gaming communities exist already and how you can uplift them. Which ones are flourishing? Which ones are frustrated and could use your support? If you happen to be an expert, consider creating guides or tutorials for commonly asked questions. If you find a helpful walkthrough, consider sharing so others with the same questions can receive the same benefit. 
For brands, consider holding contests or giveaways to recognize those that are already contributing. Not only will this help corral the community with a common goal, but it could entice seasoned gamers of similar games with their own following, to join in. Are there other ways you could leverage the services you already provide day to day in order to shrink the barrier to entry?
On the flip side, even the most robust and well-established gaming communities can run into days of repetitive tasks or activities that feel monotonous. Can you help make a day in the game different from the last? Discover what kind of items or collectables your audience really cares about and consider crafting one, either digitally or physically, as a special token or freebie to celebrate your partnership. 
By focusing on the needs of others in the space, we can all help steer the growth of crypto gaming in the direction that adds the most value to the community behind it.