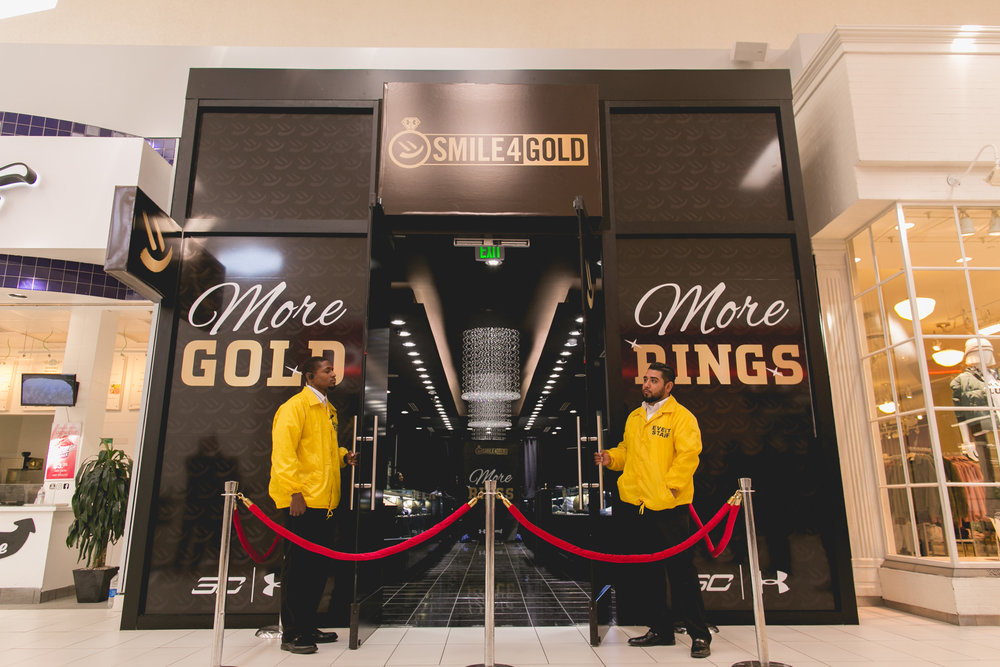 UNDER ARMOUR BASKETBALL

Smile4Gold
Experiential Pop-Up

CAMPAIGN BACKGROUND

Social marketing agency, Movement Strategy created an immersive pop-up within the Bay Area's most sought-after jewelry store.
To build buzz around Under Armour's much-anticipated Curry 4 sneaker release and create significant demand around its global launch, we looked to create an experience leading into the start of the NBA season and give fans their own taste of Ring Night–which Stephen Curry and the NBA Champions, the Golden State Warriors, would be celebrating just days later.
Playing off of the name More Rings, the official name of the first Curry 4 colorway, Movement Strategy created an immersive pop-up named Smile4Gold within the Bay Area's most sought-after jewelry store, creating a weekend-long experience guaranteed to fill the Instagram feed of sneakerheads, influencers and fans alike.
Creative Vision

THE SMILE4GOLD POP-UP

With anticipation about the Curry 4 release building since the NBA finals last spring, we thought about what we wanted people to share, how to ensure people were associating the sneakers (and Under Armour) with a premium feeling, and how to create a sense of exclusivity around the shoe.
Pop-Up, Influencers, Social Content & Radio

Building Hype

From there, we completely redesigned the existing jewelry store inside and out to bring the Smile4Gold pop-up to life and to position the Curry 4 sneakers as highly valuable and exclusive.

To create awareness around the Smile4Gold pop up, we teased the event on Under Armour and Under Armour Basketball's social handles. Additionally, we enlisted the help of local influencers, celebrities, radio stations and local press to spread the word throughout the Bay Area and around the globe.
Measuring Impact

RESULTS

The buzz led to the More Rings Championship Pack immediately selling out!
The goal was to both generate sales and drive word-of-mouth hype and this campaign accomplished both.
Not only did the sneakers sell out immediately, they were being resold on eBay at premium prices, further positioning the Curry 4s as a premium, highly sought after cop.
The buzz from this campaign helped to sell out the next colorway as well, also selling out in less than a day.