Looking for ways to grow your Instagram account? Who isn't? Perhaps you've heard of influencers, engagement rates and all the other jargon that is thrown around when talking about Instagram. But if you're a small business, perhaps you feel like many of those creative marketing campaign ideas are outside your purview. Not necessarily. I'm going to rundown a few tactical ways to grow your small business via Instagram, ones that have worked for growing my photography account.
Thanks to Instagram, the third largest social media channel behind Facebook and YouTube, the definition of a small business has expanded. Whether you're a photographer, a boutique fashion shop, a freelance chef, or any other number of new ventures or job titles, you can leverage Instagram as a powerful tool to cultivate a community. Here are a few ideas to get you started:
Partner with LOCAL Influencers
If you've been on social media in the last 3-4 years, you've definitely heard the term "influencer." You're likely even one of the millions of people that follow an influencer on some form of social media. With a small business, you may not have the operational budget to dump a big chunk of change into a big influencer partnership. But don't let that discourage you from pursuing something of the sort.
In almost any major city in the U.S., there are bloggers, photographers, musicians and more who have smaller but loyal social media followings. These individuals are often looking for collaborations to give their budding brand some relevance and a strong reputation. This is where collaborations like grand openings, content capturing, hosting special parties, exclusive giveaways, and more can come into play.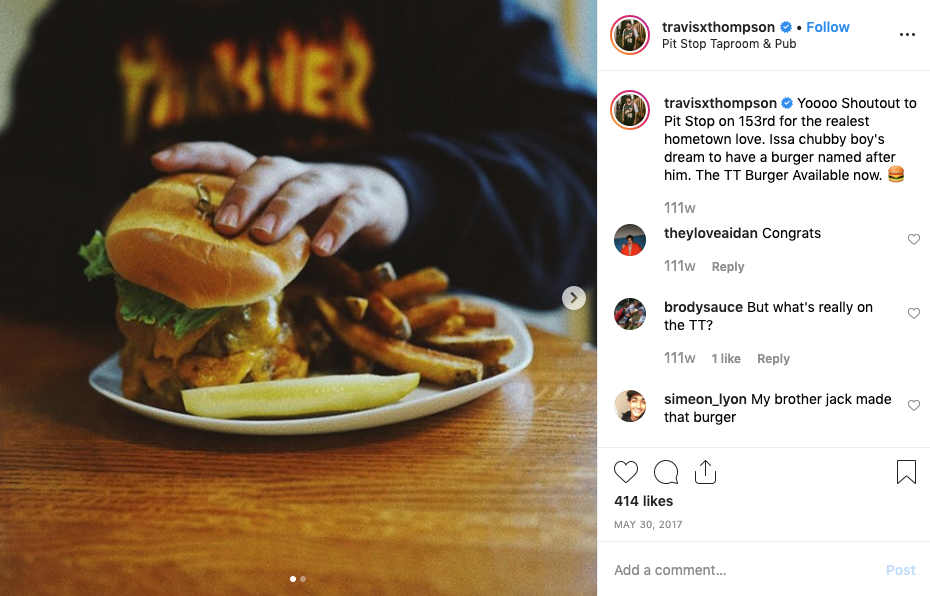 One of my favorite local collaborations is the partnership between Pit Stop Tap Room in Burien, Washington and rising hip-hop artist Travis Thompson. The Washington local was given the freedom to create his own burger, with any toppings he so desired. The item was then placed onto the menu for customers to support and eat. This was a great and creative way for a small business to involve a local individual, who then mobilized his following to get show up in person, effectively bringing in more business for the tap room and raising awareness for the food.
The great thing about local influencer collaborations is that you can do something similar for almost any kind of small business — and budget. Tapping into their following is effective in bringing awareness to your brand. And for future notice, if you're looking for someone to collaborate with on a chicken wing sauce in the NYC area, hit me up.
Quick Tip: A collaboration doesn't always have to be with an influencer. Look to other businesses that have influence on the local population as possible collaborators, too.
Treat Instagram Stories Like a Separate App
Yes, it's still instagram, but the function of Instagram stories is much different than standard grid posts. The key to capitalizing on this feature is to treat it like a different app, not simply repurposing the content that you post to your grid. The great thing about Instagram stories is the multitude of fun features that are built in and easy to use.
With that said, one Instagram Story feature reigns supreme for small businesses. That's the "highlight" function, which essentially allows you to select archived Instagram Stories (which disappear after 24 hours) and keep them in one streamable moment for people to view 24/7 at the top of your profile page. It's a nice way to keep your page looking clean and professional, while offering new visitors a quick look into your product or service.
Let's say your business is a small donut shop that specializes in having a variety of crazy flavors and combos on top of your donuts. One quick way to show off these extravagant concoctions is to have a highlight titled "Flavors" that has one frame dedicated to each donut. This way, anyone new that comes to your page can click the "Flavors" highlight and peruse each option quickly, essentially tapping through your menu without having to scroll through your whole feed.

Quick Tip: Use a similar cover for each highlight to make the page look more cohesive, like the picture above.
Enhance Your Content with Best Practices
Instagram offers a lot of ways to elevate and maximize the value of your photographs and footage. For starters, hashtags are a major way to reach your target audience, who are searching by a specific subject. My favorite way to use hashtags is to use a group of hashtags as the first comment on the image, like the example from @brethomasphotography. Having trouble knowing what hashtags to include? Check out my favorite site here to get some help.
Quick Tip: Having trouble formatting your hashtags how you want them? Head over to your notes apps to write out your hashtags with periods in the line break. This will help your "anchor tag" comment look less spammy, while still categorizing your grid post as relevant to a particular search.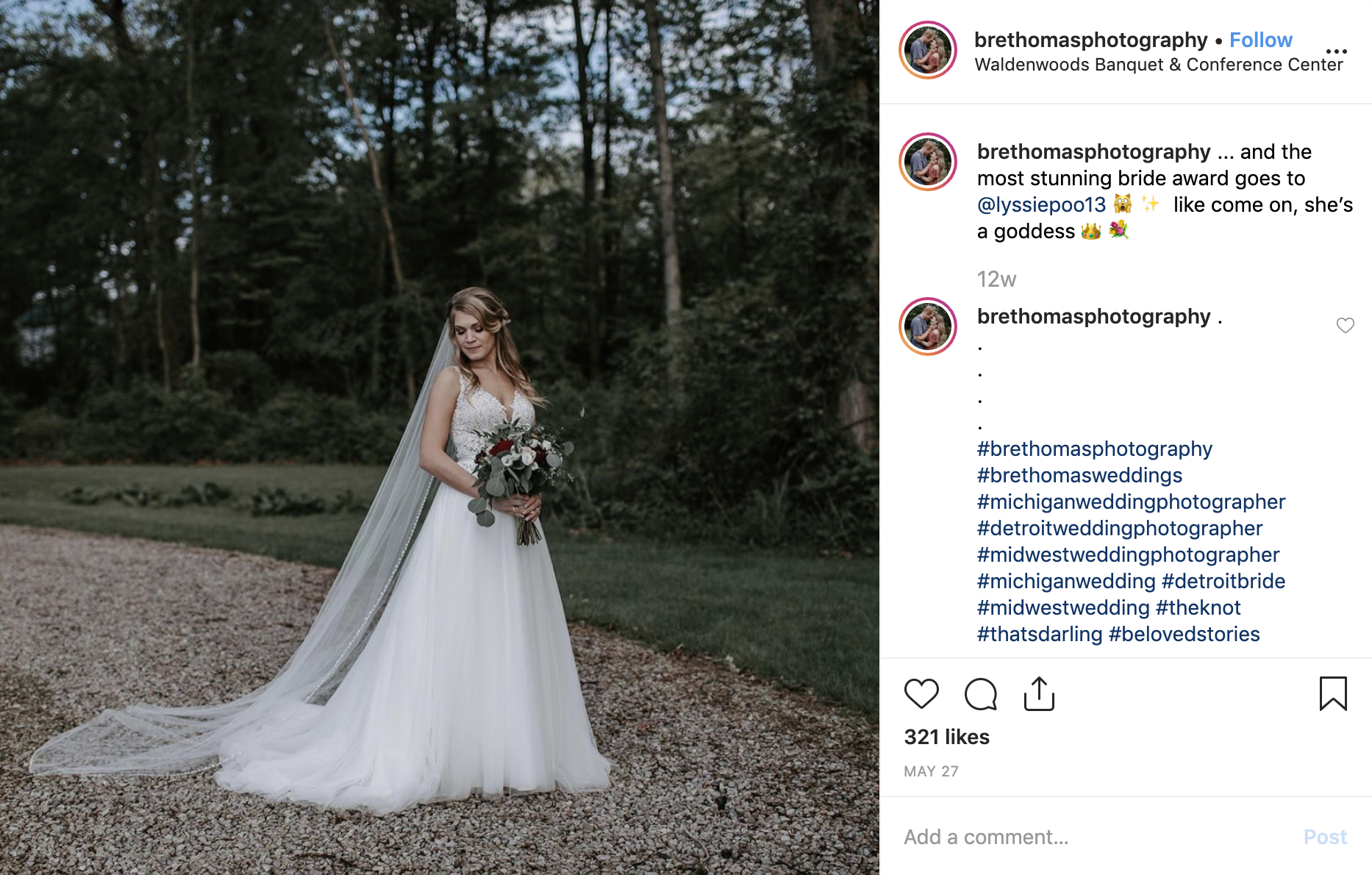 Another feature that helps small, particularly local businesses, is the location feature, which allows you to tag your picture to a location that is more discoverable. Say you're a swimwear brand that's located in Chicago, Illinois, it's likely that you won't be selling much product to locals outside of the spring and summer months. However, we all know that a nice winter beach vacation is good for the soul. You can upload photos that are tagged with more tropical locations during the fall and winter that will pop-up at locations like San Diego, Miami and more. This small feature can help you reach audiences that you normally wouldn't in Chicago.
UGC (User Generated Content) is a big help in regards to enhancing the content you've made yourself. This not only offers new perspectives in your content feed (both Stories or Grid), it flags that you've got active fans on the platform, and helps them feel participatory in your brand's success. When people tag you, especially early on in your business, you gain a lot by re-sharing or regramming a post in which you're tagged.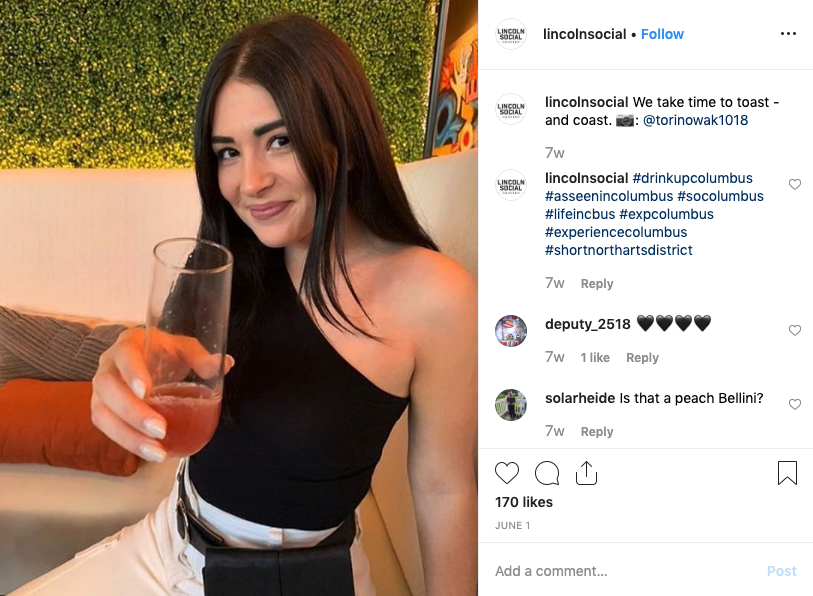 Quick Tip: UGC can be a powerful way to up your posting cadence, but remember to give your fans credit in the caption, like the image from Lincoln Social Rooftop Bar above. Not attributing a photo credit sends the wrong message.
Engage With Other Users
When running an Instagram account, it's easy to lose sight of the engagement opportunities that aren't on your own posts. But one simple way to grow your business organically is to comment on and like other posts throughout Instagram. Don't underestimate the power of personal engagement.
Here's an example: go through any of your tagged photos to find and follow people that are posting photos of your product or at your establishment. But then go a layer deeper: see who else has responded positively to those tagged posts, but is not yet a follower of yours. They've already shown a predisposition to engaging with a post that features your brand, so they're more apt to be interested in what you have to say,. Engage with their posts with likes or better still, comments, and you may find yourself with an influx of new followers.
Beyond your own account content and tagged content, you should also search hashtags, particularly ones that you want your brand to be associated with. Engage similarly with these posts and you'll start to see more followers come your way, which ideally will lead to more business.
Use Paid Advertising
Just like working with influencer, it may seem that paid advertising is out of the budget if you're a small business. However, once you become a business account, you can start promoting your posts for as little as $1.
To reiterate, the following is strictly advice I've accumulated running my personal independent photography business.  Once you reach a certain level and your weekly media spend surpasses $1,000, you're going to want to be much more tactically robust with your paid approach. But that doesn't mean up-and-coming brands should be dissuaded from dabbling. Here are a few considerations to take into account when familiarizing yourself with Instagram promotion:
First, what are you promoting? Let's say you're a small fashion boutique in Milwaukee and you want to show off your brand new summer line for the ladies! Pick the image from your grid that you think will perform best as an advertisement and click "promote."
Next, who are you trying to reach? Instagram has an option where they will automatically pick the audience that sees your promoted post. But you can get more specific in your targeting by picking the location, interests, gender and age of users, interests of users and even where they will be directed when they click on your ad. In this case, we want to target Milwuakee, but we'll also include two other cities in Wisconsin.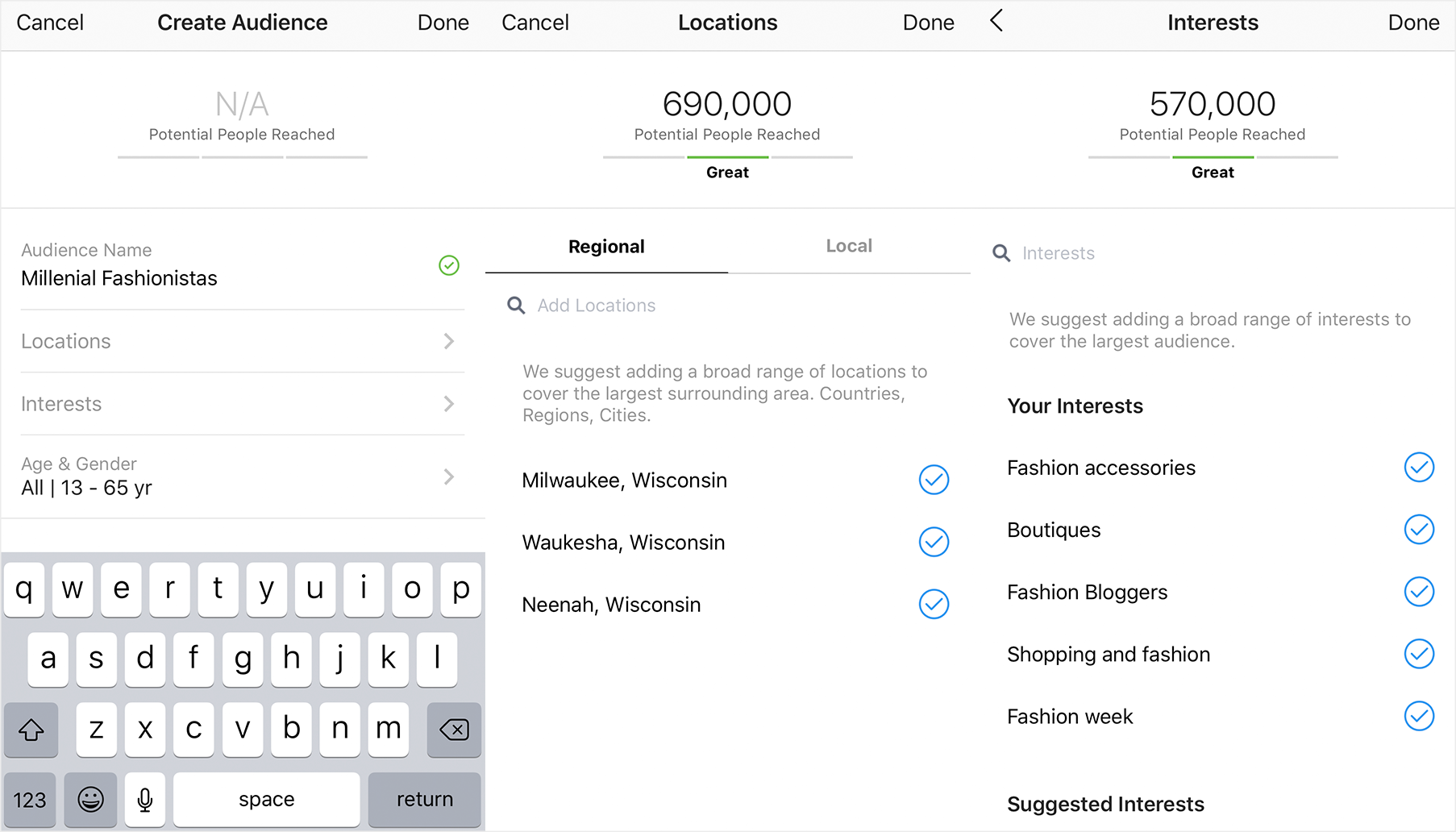 Following location, you will be prompted to select the age and gender of the audience you would like to reach. In the image below, you'll see how sliding the age to reflect a wider audience can change the reach for this targeted group. Be sure to be as specific as you can to reach the users that will most likely engage and convert to a new customer.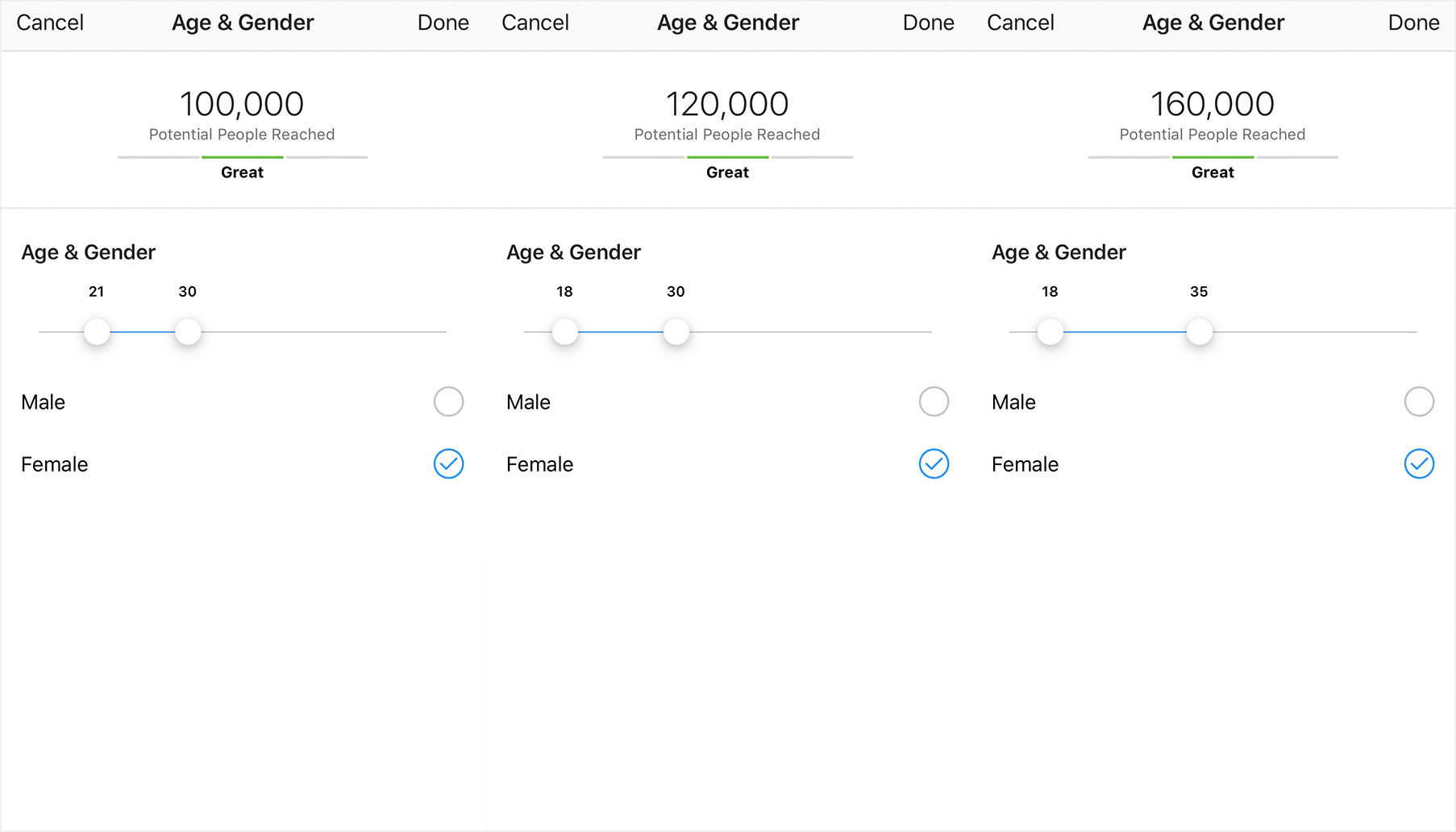 Last, how much do you want to spend? Like I mentioned previously, you can spend as little as you want. Depending on the level of your small business, and the amount of content you're posting on a regular basis, I would encourage putting aside $100-$500 monthly to use on paid advertising. This is a good starting budget to allow you to experiment and learn from the results. The best part about promoting posts on Instagram is the analytical data you can achieve on the backend of the app. Always check and adjust your next promotion as needed.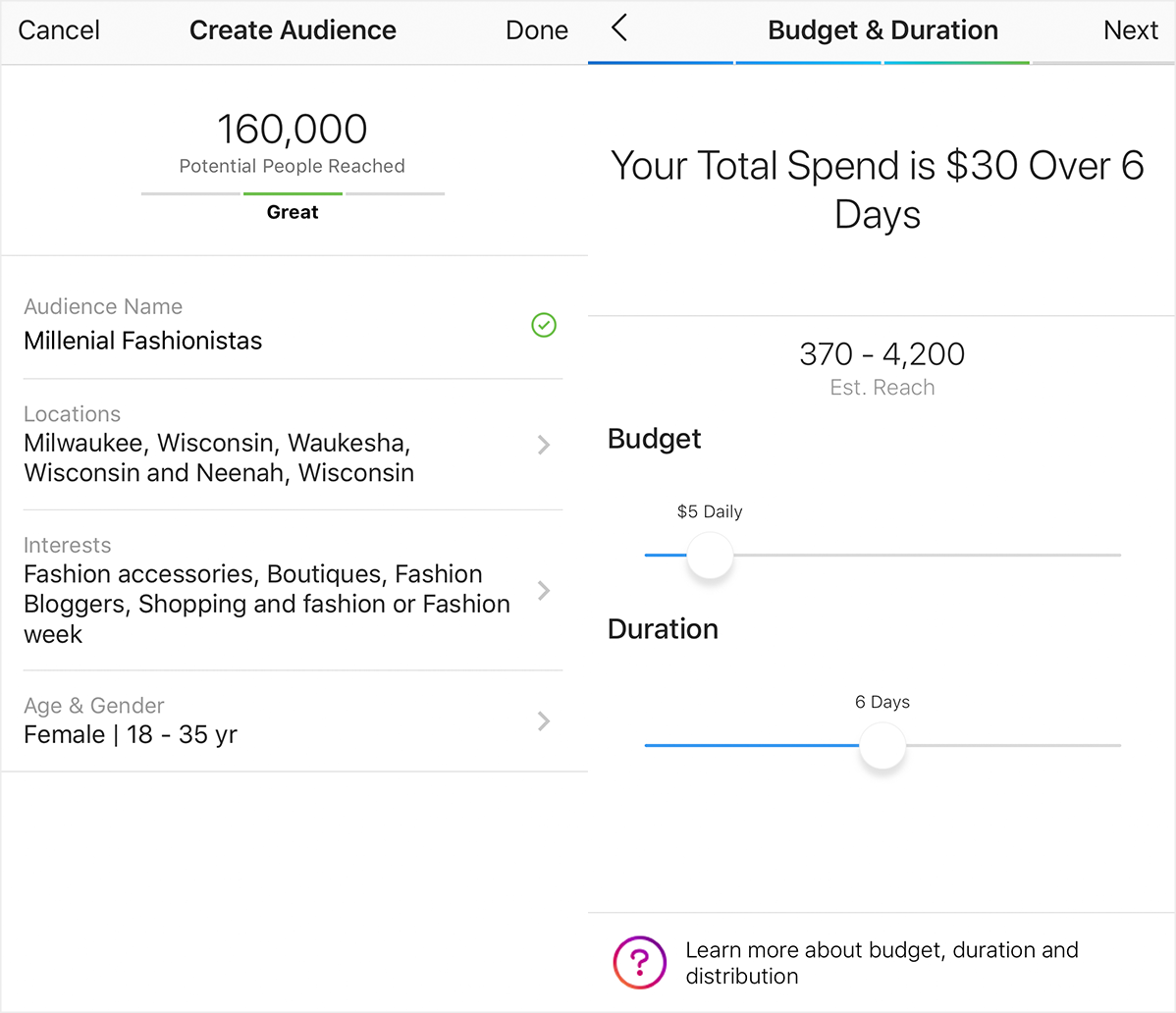 The most important factor in all of these suggestions is to not be intimidated. Instagram is a community-first platform with a constantly evolving toolbox. Experiment frequently and you'll ultimately reach the people that can make your small business successful.
Happy growing!